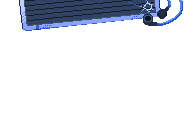 a tough-as-nails one-button rhythm game
inspired by Rhythm Heaven!
August 14th, 2019: Level Editor Alpha r16 released!
Get it and play and share 1000+ user levels.
> Click here <
- INDIE PRIZE SHOWCASE 2017 -
BEST GAME AUDIO WINNER
- BICFEST 2017 -
BEST AUDIO WINNER
- LEVEL UP KL 2017 -
BEST AUDIO WINNER
- BIG FESTIVAL 2018 -
BEST SOUND WINNER
- INDIECADE FESTIVAL 2017 -
OFFICIAL NOMINEE
- INDEPENDENT GAMES FESTIVAL 2014 -
STUDENT SHOWCASE SELECTION
- WEPLAY 2017 -
BEST OVERSEAS GAME NOMINEE
- DAY OF THE DEVS 2017 -
OFFICIAL SELECTION


It takes a lot for me to get into music games, but I found it hard to drag myself away from this little gem.


Even if you've checked it out before, please try this new build. It's deliciously difficult, and that's really what keeps me coming back.



A genuine masterclass in rhythm game design.




COMING 2019
ON MAC, WINDOWS, iOS, ANDROID, AND NINTENDO SWITCH!




Need more rhythm doctor? Sign up for occasional new levels!
(Last thing sent: editor r16 on August 14th, 2019)






(Our promise: no emails unless we have something playable for you.
Frequency: once a month until we release.
Almost there now.. Thanks for the support!)